UPDATE: October 2023
This year again has seen an unprecedented demand for firewood, As a result of this we have sold out a large majority of our stock.
Our process involves us splitting, cutting and drying our products in advance of the start of the season, in order to provide our customers with the best quality dry firewood.  In past years this has allowed us to manage stock levels and forecast sales, in order to have sufficient stock for the entire season.
We are continuing to produce and dry firewood as fast as we possibly can, whilst fulfilling outstanding orders. We will continue to only sell our firewood of the upmost quality that our customers have come to know and love.  
To be first to know when we have stock available, sign up with your email address below. We will send out an email to all of our email subscribers and orders will be available on a first come first serve basis to keep the process fair for all.
Currently out of stock are our Bulk Bags and Loose Loads (Half, Full & Jumbo), however we do have available, our kiln dried firewood bags which can be bought and collected directly from our site at Ferring Nurseries, or ordered here online for delivery (Minimum delivered quantity is 20-bags). Click the button below. 
We apologise for any inconvenience caused
Many Thanks
The Ferring Firewood Team
Order Kiln Dried Firewood Bags
Easy to Light

Due to the extensive drying process and high quality control standards.

Less Gas & Smoke

Just leaving you with a pleasant natural smell.

More Energy Efficient

Dry wood is more energy efficient and provides you with a hotter fire.
Seasoned Firewood from Local, Managed & Sustainable Woodland.
At Ferring Firewood we pride ourselves in supplying the highest quality firewood. From seasoned to kiln dried, hardwood bulk bags to firelighters, we have everything you need for the perfect fire. So whether you have a log burner, pizza oven or open fire you are covered.
As a Ready To Burn certified supplier we offer order collection as well as local delivery, covering the Worthing, Littlehampton and wider West Sussex area.
All of our wood is sustainably sourced, from local managed woodlands, so you can rest assured that your dry logs have been produced in an environmentally friendly way.
Our Load Sizes
Below are our four different size loads for bulk delivery. To find out more or to join the waitlist for next season, click the 'Learn More' button below.
Jumbo Load

- 3m (cubic) of Firewood

- Below 20% moisture

- Seasoned for 10-12 months

- Loosely tipped

Full Load

- 2.5m (cubic) of Firewood

- Below 20% moisture

- Seasoned for 10-12 months

- Loosely tipped

Half Load

- 1.25m (cubic) of Firewood

- Below 20% moisture

- Seasoned for 10-12 months

- Loosely tipped

Bulk Bag

- 1m (cubic) of Firewood

- Below 20% moisture

- Seasoned for 10-12 months

- Convenient

- Delivered in bag on pallet
A little bit about us...
Ferring Firewood started out life as a subsidiary of Ferring Nurseries, a family-run nursery on the south-coast of England with over 40 years of experience in the horticulture industry.  During winter time the horticulture industry goes into hibernation, this led us to exploring ways to not only diversify our operations but also keep us busy throughout the colder months.  

Initially producing for our own consumption, we stumbled on firewood production.  After receiving numerous requests and the rising demand for dry firewood in the area we started producing for customers; initially on a very small scale.  To say we did not expect...
Read More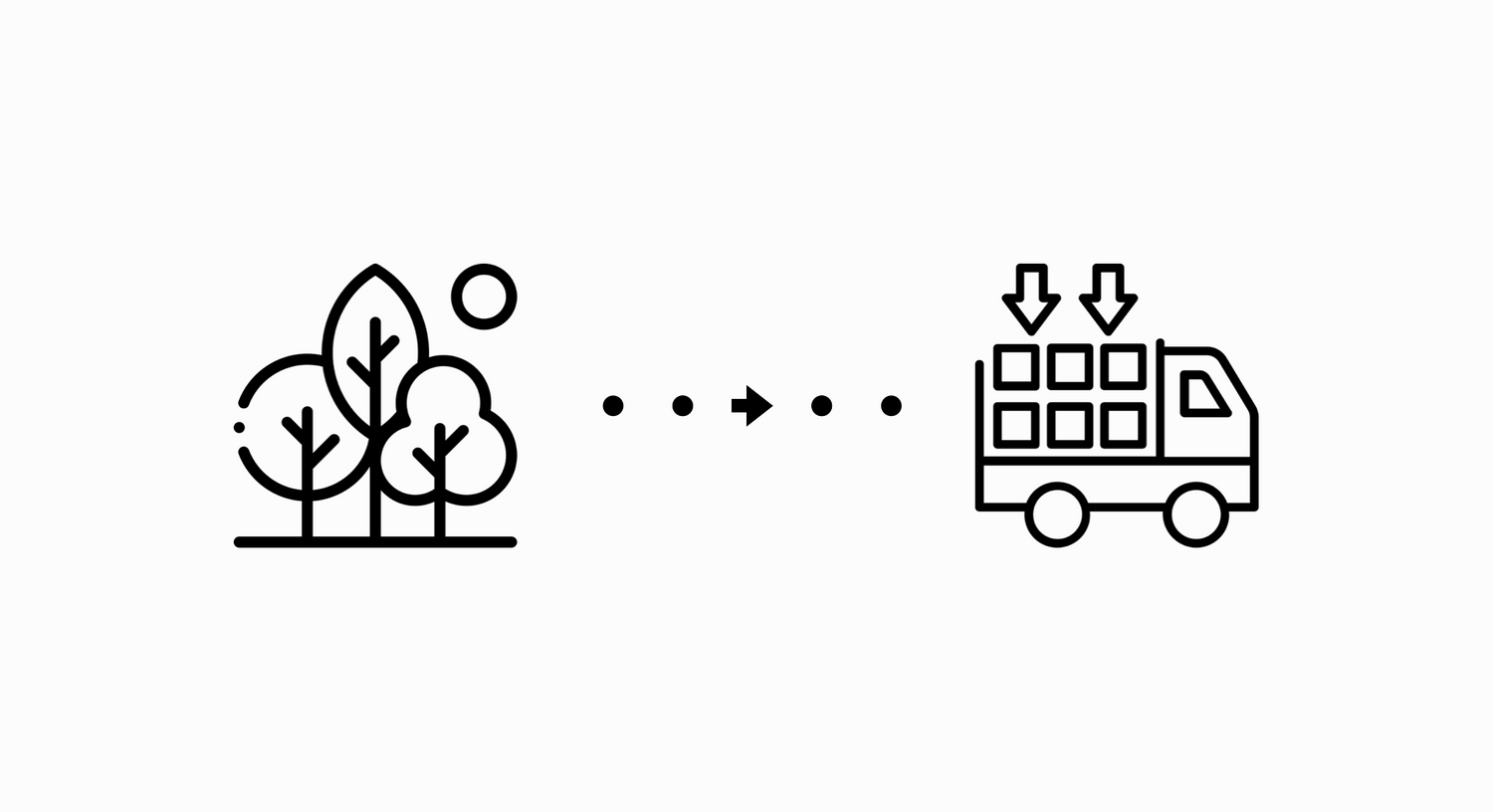 Our Production Process - From Forest to Firewood
Find out how we turn lengths of timber into the firewood you burn at home, all in a sustainable way!
Take a look for yourself